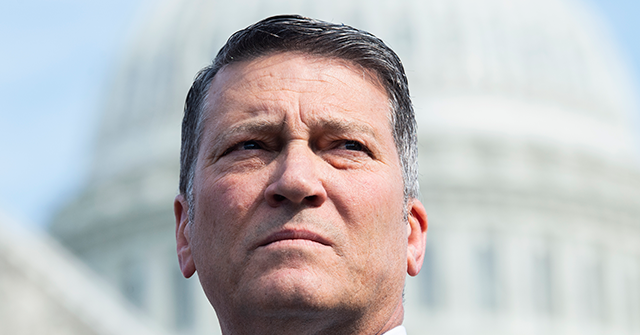 Republican Rep. Ronny Jackson (R-TX), a member of the Subcommittee on the Coronavirus Pandemic, is demanding answers from Pfizer following viral allegations of the pharmaceutical giant deliberately engaging in gain-of-function research by intentionally mutating the Chinese coronavirus.
In a letter first obtained by Breitbart News, Jackson demands answers from Pfizer CEO Albert Bourla following the release of the latest Project Veritas video, which featured Jordon Trishton Walker, Pfizer Director of Research and Development, Strategic Operations, stating that the company was dancing with what he described as "directed evolution"
"One of the things we're exploring is like, why don't we just mutate it [COVID] ourselves so we could create — preemptively develop new vaccines, right? So, we have to do that. If we're gonna do that though, there's a risk of like, as you could imagine — no one wants to be having a pharma company mutating fucking viruses," he said in the video, begging the undercover journalist to keep that information secret.
In the video, Walker emphasized scientists must be very careful to ensure the virus does not create something that mutates and spreads everywhere, which is what he believes happened in Wuhan.
"It makes no sense that this virus popped out of nowhere. It's bullshit," he continued, explaining he has heard that Pfizer scientists are "are optimizing it [COVID mutation process], but they're going slow because everyone is very cautious — obviously they don't want to accelerate it too much."
"I think they are also just trying to do it as an exploratory thing because you obviously don't want to advertise that you are figuring out future mutations," he added.

The Project Veritas video, notably, does not contain evidence that Pfizer is engaging in what Walker claimed.
BREAKING: @Pfizer Exploring "Mutating" COVID-19 Virus For New Vaccines

"Don't tell anyone this…There is a risk…have to be very controlled to make sure this virus you mutate doesn't create something…the way that the virus started in Wuhan, to be honest."#DirectedEvolution pic.twitter.com/xaRvlD5qTo

— Project Veritas (@Project_Veritas) January 26, 2023
In the letter, Jackson made it clear he is dedicated to uncovering the truth, demanding transparency on how these companies developed their vaccines.
"It was recently reported and there is mounting evidence that Pfizer has been performing gain-of-function research and conducting experiments intended to mutate the COVID-19 virus," Jackson wrote.
"These reports state that Pfizer has been looking to mutate the virus in order to develop new vaccines to ensure there remains a steady cash flow into the company.
"If true, this is unbelievably unethical and concerning to imagine Pfizer would prioritize its profits over the safety of the American public by conducting such gain-of-function research and endangering the lives of the very people you propose to help," he continued, noting American taxpayers assisted in the effort to get vaccines out quickly with the public-private partnerships via President Trump's successful Operation Warp Speed.
While Jackson said the Trump administration was successful in vaccine development and confronting the Chinese Communist Party (CCP), the congressman has growing concerns "Pfizer is abusing the trust of the American public and taking advantage of an incompetent Biden administration."
BAGGING CASH: Sales of Pfizer coronavirus vaccine and treatment pushed the drugmaker past expectations in the first quarter as profit grew 61 percent. https://t.co/ClgQCtwVRV

— Breitbart News (@BreitbartNews) May 3, 2022
Transparency and accountability must be at the forefront of coronavirus vaccine development, he continued, explaining that there could be severe consequences — including another pandemic — for the world if Pfizer is, in fact, engaging in the same sort of research that was conducted at the Wuhan lab.
Because of that, Jackson is demanding several answers from Bourla by February 1, 2023. Questions include if the company is or has engaged in gain-of-function research —  conducting experiments with the intention of mutating the coronavirus — and if it is doing so for the "sole purpose of developing new vaccines for profit."
Jackson also asks the CEO to explain the difference between gain-of-function and "directed evolution" —  the latter being the term used by the Pfizer employee in the viral Project Veritas video — as well as safety precautions taken to ensure that this type of research does not lead to another "widespread health crisis."
Further, Jackson asks Bourla to reveal how much Pfizer has profited from vaccine development in the last two years.
This week, Jackson fired a warning shot, sharing the viral Project Veritas video on Twitter and alerting Pfizer to "CLEAR YOUR CALENDAR."
"I'm sure the committee to investigate Covid will have questions on this!!" he exclaimed:
CLEAR YOUR CALENDAR @pfizer! I'm sure the committee to investigate Covid will have questions on this!! https://t.co/RRlW5edKmd

— Ronny Jackson (@RonnyJacksonTX) January 26, 2023
Indeed, the Subcommittee on the Coronavirus Pandemic, as detailed by Speaker Kevin McCarthy (R-CA), is posed to "finally get answers to the COVID origins and the federal government's gain of function research that contributed to the pandemic."
In December, McCarthy promised that the GOP-led House would hold the Biden administration and corrupt officials accountable from "day one," and that includes investigating the origins of the Chinese coronavirus. 
Concerns over gain-of-function research have remained at the forefront of the debate on the origins of the virus as Dr. Anthony Fauci has continued to deny that the National Institutes of Health (NIH) funded such research at the Wuhan lab, despite the NIH admitting it happened. 
Sen. Rand Paul (R-KY) has engaged in several contentious discussions with Fauci, who has remained in denial, describing gain-of-function as a "nebulous term." 
"We're aware that you deleted gain-of-function to the NIH website," Paul said during a November 2021 hearing, accusing Fauci of changing the definition on the website "to try to cover your ass, basically."