In just over 120 minutes as of the time of this article's publishing, Bitcoin's one-month and three-month candles will close. A number of analysts have remarked that the upcoming close will be crucial for the crypto market's directionality moving forward.
Levels to Watch For
According to analyst Crypto Birb, Bitcoin closing above $6,425 when the monthly candle closes in the very near future would be one of the feasible best-case scenarios for the cryptocurrency:
"Bitcoin monthly close above $6,425 would be a solid bullish [swing failure pattern] to make April to May brighter."
Indeed, $6,425 is a crucial level from a long-term perspective, as that's where BTC bottomed in December. Also, the low-$6,000s were absolutely key for Bitcoin during the 2018 bear market: the cryptocurrency bounced off that region on multiple occasions.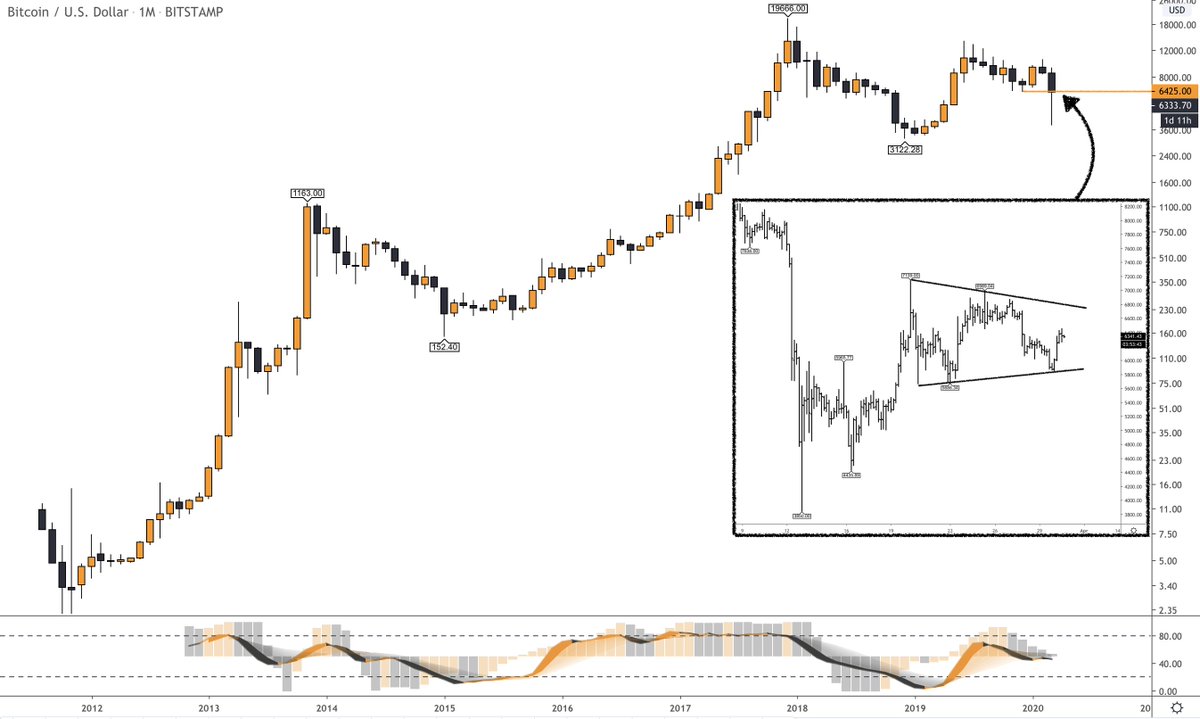 The asset managing to close above this historically-pertinent level would create a so-called swing failure pattern, according to CryptoBirb, which would give credence to a bullish reversal.
Many have also pointed to the fact that March's candle looks like the bottoming process seen during the 2013-2015 cycle, during which Bitcoin saw a massive capitulation event that saw it similarly fall by some 50% within a few days' time span, to only bounce back in the weeks that followed.
With Bitcoin currently changing hands for $6,470, the bull-case close scenario seems possible.
According to CryptoISO, however, whatever the candle closes at, it seems to be in a bearish structure.
The prominent trader wrote in a message published on March 31st that while "people [are] fixated on the monthly close," the "high time frame market structure is bearish" because March's candle opened at $9,200 to fall to $3,600 at the lows, a drop of more than 60%.
People seemed to be fixated on the monthly close.

High time frame market structure is bearish.

The monthly candle goes from 9200 to 3600.

That is absurd.

— CryptoISO (@crypto_iso) March 31, 2020
Bitcoin To Outperform In Q2?
Bitcoin is poised to close 10% down on the quarter, making this the fifth out of the past seven first quarters that the cryptocurrency has trended lower, suggesting this market has a negative winter seasonality to it.
The thing is, as can be seen in the chart below from Skew.com, the second quarter of years have historically been bullish for the cryptocurrency, with BTC rallying more than 20% in five out of the last six second quarters.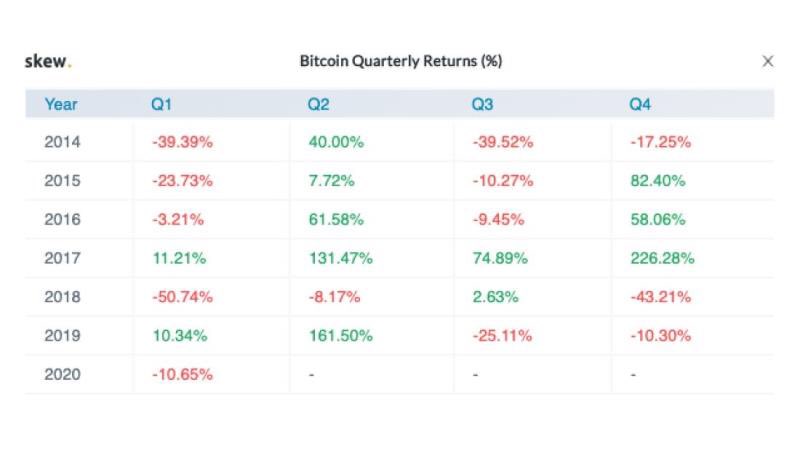 Featured Image from Shutterstock